by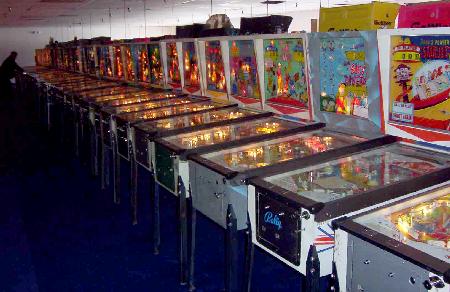 ___Inside the Pinball Hall of Fame ___
[Photo is from the PHoF's website – Stock Photo does not necessarily
represent WMS PB Machines – That is a Bally's PB!]
Was there a movie about a twenty-something who would go to *Celebrity Sports Center, after midnight – several nights a week – to play pinball after a number or two? Seems to me that there was. "The relative darkness of the room, the pinball machine lights, the sounds, the feel of the ball on the flippers, and that Knock – when a game was won – that went through your fingers, up your arms, through the shoulders and straight into the back of your head, as that sound entered through another door – all so greatly enhanced – made him feel not only like a master of the game but like a master of the world. He felt that he could do anything."
But I digress! Read all about WMS.
"Success Is Created By Those Who Dare To Change The Game"
"WMS has played a decisive role in games and entertainment since Harry Williams founded his Chicago-based company in 1943. A Stanford engineering graduate who devised the "tilt" mechanism for pinball machines, Williams changed the nature of pinball in wartime America. He and his firm had an unsurpassed ability to devise new game features and stay in touch with the changing tastes of the amusement market. The company retained this inherent strength when it entered the home video market in the 1980's and, eventually, casino-style gaming in the early 1990's" read more…
VideoSlotMachines.Com: The Ultimate OnLine Guide To Video Slot Machines
has Game Profiles and Reviews for WMS Slots, as well as:
Video Slot History
How They Work
Playing Guide
Bonus Features
Tips For Winning
Buying a Video Slot
Slot Players Q & A
Online Slots
Other Resources
The following is a November 13th, 2008 article from Market Watch:
WMS Evolves the Casino Gaming Floor with Player Driven Innovation(TM) Designed Products at 2008 Global Gaming Expo.
WAUKEGAN, Ill. & LAS VEGAS, Nov 13, 2008 (BUSINESS WIRE) — WMS Gaming Inc., a subsidiary of WMS Industries Inc.
WMS will demonstrate the newest games powered by its Player Driven Innovation approach to game design and its latest game changing technologies and innovations at the eighth annual Global Gaming Expo (G2E(R)) from November 18-20 (Las Vegas Convention Center, Booth #1256). Leveraging its pioneering culture of innovation, WMS is a recognized leader in creating exciting and imaginative products based on entirely new and differentiated technological enablers and solutions. read more…
The LVBC is tracking the WMS Gaming stock, just for fun…Access the main LVBC website's www.lasvegasbuffetclub.com/index.html page for this information…
Link to WMS Gaming's Official Website…
*Celebrity Sports Center (CSC or Celebrity's) was a family-oriented entertainment (bowling, swimming, [table] pool, restaurants, pin ball etc.) business and landmark in metropolitan Denver. Celebrity's was located in Glendale, Colorado at 888 South Colorado Boulevard near East Kentucky Avenue. It opened in 1960 and operated continuously for 34 years before closing in 1994.[1] The original investors included Walt Disney, his brother Roy, Jack Benny, Bing Crosby, George Burns, Charles Laughton, Burl Ives, Art Linkletter, John Payne, Spike Jones and Jim and Marion Jordan (Fibber McGee and Molly).[2] read more from Wikipedia…
Click the wiki link for "An early promotional illustration of the signature Celebrity Sports Center building and sign."