by
EL NOA NOA Mexican Restaurant
722 Santa Fe Dr
Denver, CO 80204 (303) 623-9968
One of the best Mexican restaurants in Denver, Colorado, EL NOA NOA on Santa Fe Drive is an authentic Mexican restaurant in an Hispanic neighborhood that has been around forever. A commercial area of the 'hood surrounding EL NOA NOA has recently been adopted by a multi-culture art crowd. It is fast becoming a major "ARTS DISTRICT." O.K. if you're from New York you have a different definition of the term "major." So… The restaurant underwent a makeover in the past year, or so.
According to tradition there were 2 dogs, two cats, 2 elephants, 2 zebras, on and on and on and on the ark during the flood. It would make sense then that maybe there were also two Noa's…Or is that too much of a stretch? Anyway I've decided that that is the origin of the name.
Actually it's the name of a little book the artist, Paul Gauguin wrote about a season in Tahiti in 1891.
Maybe that's where Noa Noa's owner got it. This is one of Gauguin's paintings from that time.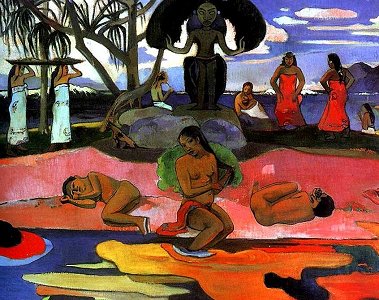 El Noa Noa might be my favorite Mexican Restaurant in Denver. Maybe it depends on the time of year. In the more favorable seasons, weather permitting – the patio is open (see photo,) the trees are in bloom, the fountain is running and on some Saturday nights there is live music. In a perfect storm, so to speak, and all things are happening as they should be happening – this may be it. I can't imagine a much more pleasant ambiance.
We were there last Saturday night. The late sun was shinning, the band – a South American flute and guitar group were into their music – and we were into some excellent authentic Mexican food and beverage.
I mentioned to the affable Armando that since the patio really helps to make the restaurant they should think about enclosing the patio with glass or acrylic so this little piece of heaven can be enjoyed year-round.
This good look'n restaurant attracts some good look'n people – the people watching is superlative.
The Denver Civic Theatre at 721 Santa Fe Drive is just across the street..
Play's such as last year's THE VAGINA MONOLOGUES opened to good reviews/crowds.
The food is excellent: Try the Chile Rellano Plate ($10.25) or the Fajitas ($14.50.) Everything is tasty and authentic…
Prices are moderate. The full bar is serving up your favorite margs. Happy Hour: Mon – Fri, 2-6, check website.
Better hurry though, it won't be long before the Colorado nights are too chilly to have chile outdoors.
El Noa Noa's Official Website with full menu and more
Visit the main pages of the LasVegasBuffetClub